State, Country, International
Coleman Connected News
>
State, Country, International
Lastest Forum Post
City Management (City Hall) : Agenda, CC, February 16, 2023
Thu, 16 Feb 2023 08:42:28 +0000

Economic Development Boards : Agenda, 4-A and 4-B Meeting, February 9, 2023
Wed, 08 Feb 2023 08:31:39 +0000

Miscellaneous : Empathic Communication
Sat, 28 Jan 2023 05:20:35 +0000

City Management (City Hall) : Agenda, CC, January 19, 2023
Thu, 19 Jan 2023 08:12:11 +0000

Economic Development Boards : Agenda, 4-A and 4-B Meeting, January 13, 2023 2022
Tue, 10 Jan 2023 19:28:01 +0000

City Management (City Hall) : Agenda, CC, January 5, 2023
Tue, 03 Jan 2023 12:48:05 +0000

City Management (City Hall) : Agenda, CC, December 15, 2022
Tue, 13 Dec 2022 09:13:21 +0000

Agendas for board meetings : Agenda, P&Z, December 13, 2022
Mon, 12 Dec 2022 11:33:25 +0000

Wednesday, April 27, 2016 - Posted by Administrator, in General News., Events and announcements, City news, State, Country, International
| | |
| --- | --- |
| | Early voting has begun! |
| | |
Early voting numbers as of 9:00 AM, Wed. 4/27/2016
County voters: 285
City voters: 137
Voting times and places are shown below.
Per the city of Coleman Website:
http://cityofcolemantx.us/voter/default.html
Polling Place: Council Chambers, Coleman City Hall
200 West Liveoak Street
Early Voting April 25th-29th (8am-12pm/1pm-5pm)
Early Voting May 2nd-3rd (7am-7pm)
Election Day May 7th, 2016 (7am-7pm)
Elections For:
City Council, North Ward, Place 1
City Council, South Ward, Place 4
CISD School Board Trustee, Place 6
CISD School Board Trustee, Place 7
Per the County website:http://www.co.coleman.tx.us/default.aspx?Coleman_County/Elections
Early Voting Dates, Hours and Location:


Monday April 25, 2016 - Tuesday, May 3, 2016

(closed on Saturday and Sunday)

8:00 am to 4:30 pm

Coleman County Courthouse

100 Liveoak Street, Suite 105

Coleman, Texas 76834

Election Day Hours and Locations:


May 7, 2016

7:00 am to 7:00 pm

Precinct 1, 2e, 3 and 4 Registered Voters:


Coleman County Courthouse

100 Liveoak Street, Suite 105

Coleman, Texas 76834

and

Precinct 2 Registered Voters:

Santa Anna ISD

701 Bowie Street

Santa Anna, Texas 76878


Applications for Ballots by mail may be submitted to the Early Voting Clerk

100 Liveoak Street, Suite 105, Coleman, Texas 76834.

Deadline to Receive ABBM for the CCMCD Election is
Tuesday, April 26, 2016

3 Comments
Tweet
---
Wednesday, May 13, 2015 - Posted by Bernadette Allen, in General News., State, Country, International , Videos
May 3rd, 2015 - Day trip to Dyess Air Force Base, Abilene Texas to watch the amazing Thunderbirds.







We attended the Big Country AirFest at Dyess Air Force Base the first Sunday in May. What a wonderful day. Both the B1 and the C-130 were celebrating anniversaries of being at Dyess and they put on a particularly great show. Many aircraft were on display with guided tours being offered on many of them. Thanks to Jeff for my personal tour of the C-130J!

The airshow featured some really great acts. The ones that captured my fancy were the Air Force Thunderbirds, The Harrier Jet and the Russian MIG. There was also a bi-plane that was wonderful. The A/F and the Army had parachute jumping teams that were very interesting to watch.

The Air Force Thunderbirds closed the show. They were very interesting even before they took off. They have a precision routine set to music, which they perform as the airplanes are prepared for takeoff. They really are amazing to see.

The Harrier Jet is a joint effort between the US and Britain. It can take off vertically, like a helicopter. It can hover in the air and even back up. Amazing!

Thanks to all the wonderful people at Dyess and their guest performers for sharing such a special day with the community!
Click on the video to watch a mosaic of the show.

Bernadette
1 Comments
Tweet
---
Friday, April 17, 2015 - Posted by Administrator, in State, Country, International
The Texas House of Representatives has passed a bill on to second reading that would allow people with Concealed Handgun Licenses (CHL) to openly carry handguns. The bill (HB 910) came to a vote after several hours of contentious debate over amendments and parliamentary procedural issues. It was approved by a vote of 96-35.
There appear to be some differences between the version that passed the Senate and the House version that passed on Friday. After final passage by the House, one chamber will need to pass the version passed by the other chamber in order for a bill to move forward to Governor Greg Abbott for approval.
A vote for final approval of the bill is expected to happen next week.
Story from: http://www.breitbart.com/texas/2015/04/17/texas-house-passes-open-carry-bill/

0 Comments
Tweet
---
Thursday, April 16, 2015 - Posted by Rhiannon Meyers, in State, Country, International
Industry-friendly policies helped Texas retain its position last year as the nation's top wind energy producer, but partisan politics now threaten that standing, wind advocates said this week as they released an annual report on the state of the industry.
Wind power has long enjoyed support from lawmakers on both sides of the aisle, with Republican former governors Rick Perry and George W. Bush championing policies that helped the industry thrive in the state. In recent years, however, wind power has come under attack from critics who argue that the renewable energy industry should have to stand on its own without subsidies, tax credits and other government help.
A bill that passed the Texas Senate on Tuesday calls for stripping incentives that have boosted the amount of renewable energy produced in the state.
"When you talk to Texans they like wind power, they like oil and gas, they like a diverse energy portfolio," said Jeff Clark, executive director of The Wind Coalition, an Austin-based trade association. "This is not the philosophical bent of the average Texan, but this bill is going to send a message to the world about what Texas believes about its energy supply. It's a foolish attempt to make politics out of a really good policy."
The bill's sponsor Sen. Troy Fraser, R-Horseshoe Bay, has said the programs are "irrelevant" and no longer needed since Texas long ago surpassed its goal of 10,000 megawatts of renewable power by 2025.
But wind advocates say those policies helped Texas become the epicenter for the industry's rebirth, according to the market report by the American Wind Energy Association unveiled Wednesday morning.
"(Fraser) is declaring victory and saying, 'Mission accomplished,' but we're still on the battlefield," Clark said in a meeting with the Houston Chronicle editorial board on Tuesday. "There's no reason to do it, other than a political statement."
The massive investments pumped into new wind farms and transmission lines in the Lone Star State helped the industry rebound from a devastating year in 2013 after U.S. lawmakers failed to renew the production tax credit, a federal subsidy that gives wind generators 2.3 cents per every kilowatt hour of wind generated but requires annual renewal.
Without the federal subsidy, the wind business deflated as developers scuttled projects and laid off nearly 30,000 workers.
Click here for the rest of the story.

http://fuelfix.com/blog/2015/04/15/politics-threatening-texas-wind-energy-advocates-say/
0 Comments
Tweet
---
Thursday, April 16, 2015 - Posted by Collin Eaton , in State, Country, International
HOUSTON – Oil field services firm Schlumberger announced Thursday it plans to ax another 11,000 workers, kicking off what could be a second major wave of layoffs across the oil industry.
The move will bring Schlumberger's layoffs up to 20,000 employees, roughly 15 percent of its workforce, since it began paring back its payroll earlier this year to cope with low oil prices. The nine-month oil slump has cost the energy industry more than 120,000 jobs so far, according to oil field staffing firm Swift Worldwide Resources.
Oil equipment companies have been forced to fine-tune their workforce as they promise oil companies up to 20 percent in price reductions for rental tools, equipment and other services, said James Wicklund, an analyst at Credit Suisse.
Wicklund said it's likely another wave of layoffs will sweep through the service industry after this year's first in recent months, when major players announced more than 40,000 workers would be tossed from the oil-tool suppliers. It's even possible a third wave will take place in the third quarter, albeit smaller than the first two.
Schlumberger's workforce peaked in the third quarter of 2014 with 126,000 employees. Spokesman Joao Felix said the reductions are in progress and should be completed in the second quarter.
Schlumberger, based in Houston, Paris and the Hague, said it took a $390 million charge in the first quarter related to the job cuts and a company leave-of-absence program. It blamed the "severe fall" in North American oil field activity as U.S. producers parked hundreds of drilling rigs and cut billions of dollars in spending.
The firm, which is the world's biggest oil field services provider, said its first-quarter revenues fell to $10.2 billion, down 9 percent from the same January-March period last year. The figure was off by 19 percent compared to the fourth quarter of 2014, a sign that the oil crunch hit sales harder in the new year.
Schlumberger's North American revenue fell further than its international sales, declining 13 percent compared to the 8 percent revenue drop it saw overseas.
In a written statement, CEO Paal Kibsgaard said three quarters of the 19-percent sequential drop in revenue came from lower activity and pricing concessions, but the firm was able to mitigate some of the blow to its profit margins by managing costs and accelerating a "transformation" program designed to make product lines and regional units more efficient.
"Schlumberger was already going through a transformational process, identifying ways to be more efficient," Wicklund said. In first-quarter conference calls, "the thing we will hear most about is efficiency. Efficiency and returns."
Schlumberger banked a profit of $975 million, or 76 cents a share, in the first three months of the year, compared with $1.59 billion, or $1.21 a share, in the same period last year. That fell below analysts' expectations of 91 cents a share.
Stewart Glickman, an analyst at S&P Capital, said after a series of cost-efficiency efforts in the service industry in recent years, it's hard to see where the company and its rivals can cut without slicing into muscle.
"It makes me wonder how much more fat is there to cut beyond what they already did," he said. "I don't know there's a lot of easy pickings in terms of supply chain improvements. If you really need to lower your cost base, you need to roll the dice and use fewer people and hope you'll get good people again."
Story copied from: Copied from: http://fuelfix.com/blog/2015/04/16/schlumberger-cuts-another-11000-jobs-in-wake-of-oil-crash/
2 Comments
Tweet
---
Thursday, April 16, 2015 - Posted by Tyler Whitson, in State, Country, International
A bill that could have major implications for Austin Energy and the city budget passed its first hurdle in the Texas House on Tuesday and now goes to the Senate floor. It could give certain Austin Energy customers the ability to break away from the utility and buy energy on the deregulated market.
The Senate Committee on Natural Resources & Economic Development passed Senate Bill 1945 on a six-vote majority, with Sen. Judith Zaffirini (D-Laredo) casting the sole opposing vote.
Senators Kel Seliger (R-Amarillo), Juan "Chuy" Hinojosa (D-McAllen) and Carlos Uresti (D-San Antonio) submitted their votes in writing after the Senate Committee on Natural Resources and Economic Development adopted Senate Bill 1945. Seliger voted in favor of the bill, while Hinojosa and Uresti voted against it.
Sen. Troy Fraser (R-Horseshoe Bay), who filed the bill and chairs the committee, said in a public hearing before the vote that the bill is "not a mandate of competition" but rather a "review of the appeal process" for customers who are unsatisfied with their rates.
However, Karen Kennard, interim intergovernmental relations officer for the city, told City Council last month that the bill could eventually have the same effect as deregulating Austin Energy, in that it could unravel "the entire customer base of the utility."
The bill would allow heavy-usage customers or groups of customers in the city to petition the Public Utility Commission for a rate review. Austin Energy would have an opportunity to respond, and the PUC would review the rates in question and decide whether they are "just and reasonable" or consistent with comparable deregulated rates.
If the PUC decides that the rates do not adhere to these criteria, it can set new rates or allow the customer or group to purchase power on the deregulated market and pay Austin Energy solely to use its transmission and distribution infrastructure.
Read the rest of the story here at the Austin Monitor.
2 Comments
Tweet
---
Wednesday, April 15, 2015 - Posted by Townhall, in State, Country, International
Presented with no comment...
2 Comments
Tweet
---
Friday, April 10, 2015, in State, Country, International


Texas is known for its low taxes and limited government - but its big cities look a lot like big cities anywhere, with their own rules and regulations. As they spread across the neighbouring countryside, some unhappy rural residents are drawing a line in the sand.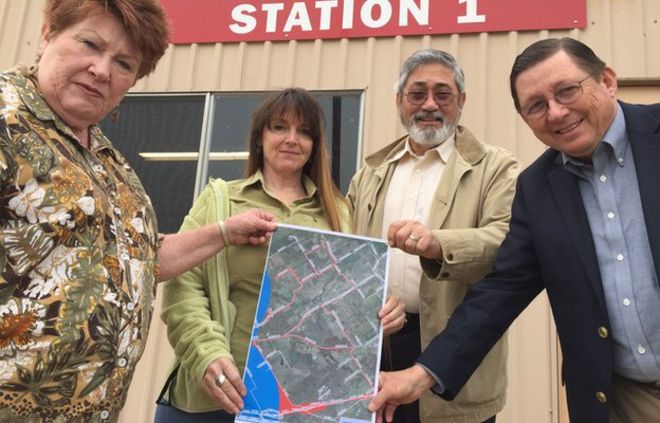 There's not a whole lot to Kingsbury, Texas. In fact, it's not even really a town.
Technically Kingsbury is just part of Guadalupe County, in the central part of the state. It is a name and a postal code on a row of dilapidated buildings dating to the early 1900s, when the area had a bustling railroad depot, lumberyard and supporting businesses.
As with many old Texas settlements, however, the trains - the lifeblood of commerce - eventually stopped visiting. The lumberyard shuttered, the hotels closed and the bank burned down after the manager ran off with all the money.

Read the rest of the story here. http://www.bbc.com/news/world-us-canada-32072814

0 Comments
Tweet
---
Monday, April 6, 2015 - Posted by Matt Grant, in General News., State, Country, International



When David Wolek put his 2007 Carolina Skiff fishing boat on Craigslist he didn't expect to get caught on a phishing scam.

"I guess since it's a fishing boat," said Wolek, "they're out phishing for a sucker."

Wolek placed an add offering to sell his boat for just under $16,000. Right away he got a bite from an interested buyer.

"He sent me a message telling me he was very interested," said Wolek. "He wanted it for his father but he was on an oil rig and he couldn't come take a look at it himself."

Emails detail an elaborate scheme designed to steal your money.

The fake buyer urged Wolek to join PayPal - then promised to overpay by $2500 to cover transportation fees. Then the buyer wanted Wolek to wire him back the overpayment.

"That's when it didn't smell right to me," said Wolek, a retired post master from Oklahoma.

The fake seller then sent a fake email pretending to be from PayPal.

Click here to read the rest of the story on the forum.

A new scam is targeting people selling items on Craigslist and it could cost you thousands.
0 Comments
Tweet
---